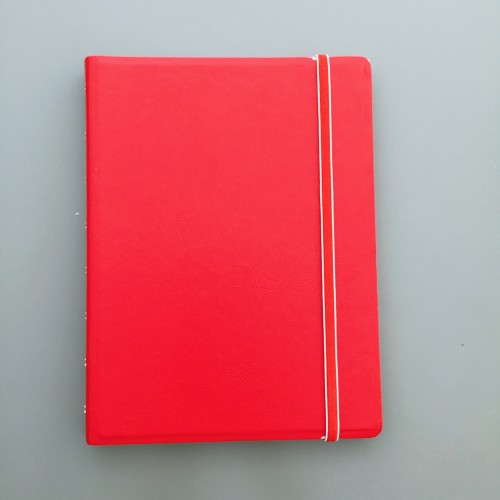 I bought this leatherette-covered notebook from Goulet Pens. The price was $18.95 and I paid with my very own pennies. Yes, this is a lot for a notebook, though it is refillable and that helps.
Let's dive right in to the Filofax A5 Notebook: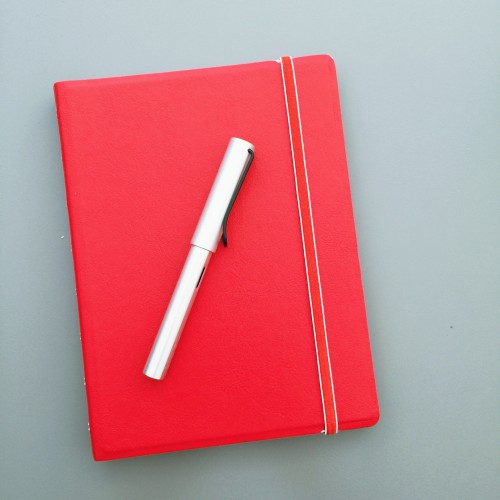 Measuring in at just around 6.33″ x 8.4″, this notebook is a handy size that will fit comfortably into larger sized handbags and totes. Mine is a bright and cheery red with a faux leather textured cover. The cover is over a thin and somewhat flexible bookboard. There is no off-putting scent to the cover – that is, it doesn't smell like cheap vinyl.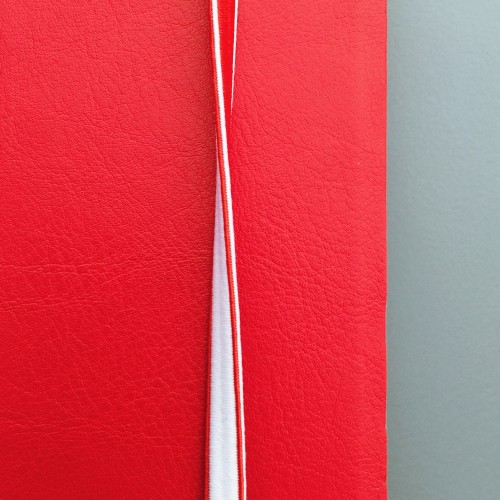 The elastic band is red with white trim on one side and vice versa on the reverse. The band itself is super high-quality – I don't remember seeing such a nice band on any other notebook or planner.  The front and back covers are notched – this assures that pressure from the band doesn't damage the cover.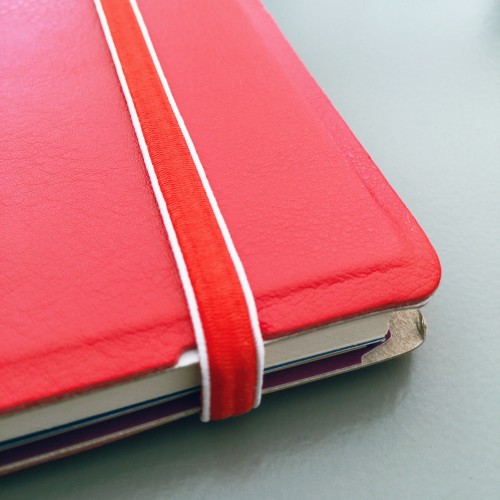 I immediately noticed the use of cardboard stiffeners in the front and back of the book and was concerned that this meant the cover and paper would be low-quality. Not the case at all.  With the stiffeners removed, the book is somewhat bendy – and that's a very good thing because the entire thing can be wrapped around itself – cover to cover. Love this feature.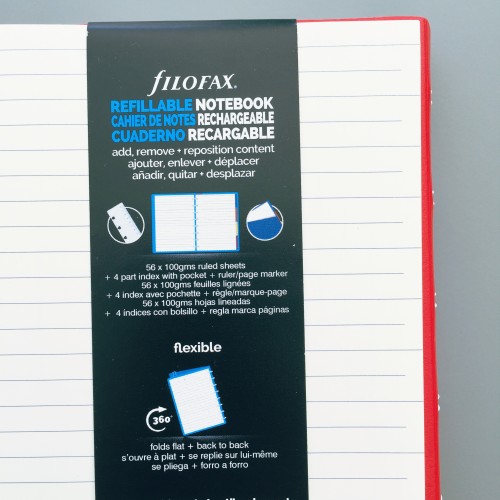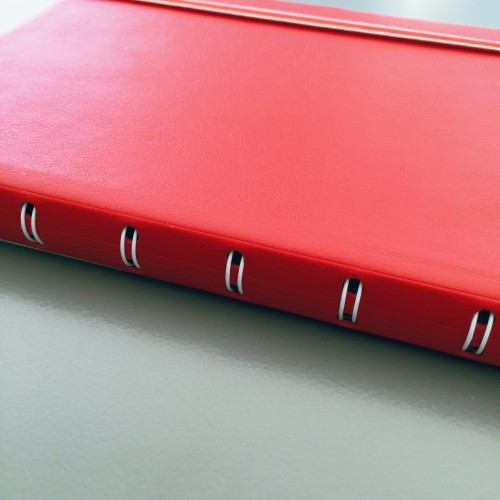 The Filofax has a semi-concealed wire-o (twin wire) binding. The only way this could be improved upon would be if the wire was colored to match the notebook cover.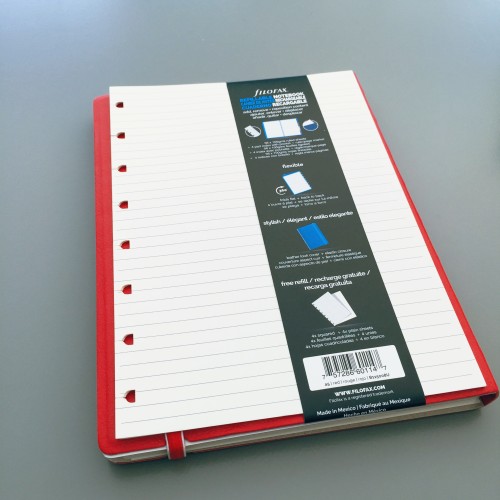 The notebook comes pre-filled with 56 pages of ivory paper and a small stack of paper that can be used to refill the book. Refilling works much like disc-bound notebooks, but I like the way this looks so much more. (The paper looks closer to white in my pictures – that is a result of my skills as a non-photographer – it is definitely ivory.)
This Filofax A5 Notebook also has a nifty (and very flexible) ruler/bookmark and four repositionable tabs. The blue tab has a pocket – he pocket could have been cut deeper to make it easier to move papers around (and prevent tearing).  The other tabs are red, yellow, and purple.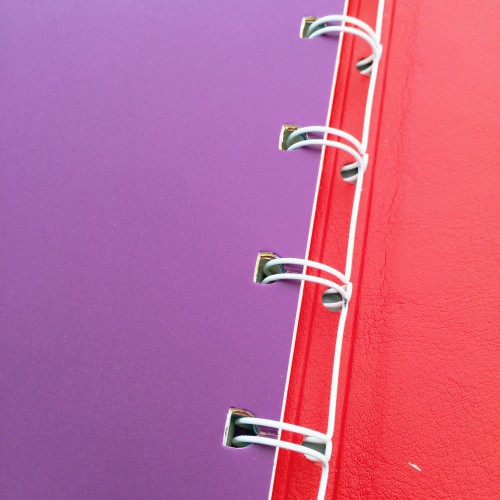 Even before writing in it, I was super-duper impressed with the quality and features of this notebook. So much to love.
Hopeful, I grabbed a bunch of nearby pens and even one of Mr. Pentulant's pencils . . .
Performance is good. Not perfect, but good. The paper is more absorbent than favorites like Clairefontaine and Rhodia. (Interesting side note:  the label on the notebook says that the paper is 100 gms <not gsm>. I'm not sure if that's a typo or if they are using some other non-standard measurement for the paper.)
Here's a close-up of the writing. . .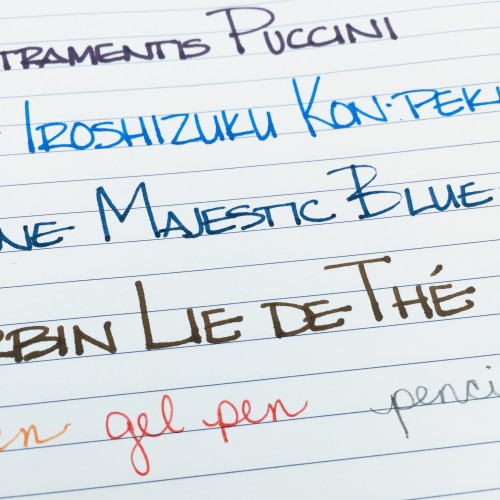 Turn the page and . . .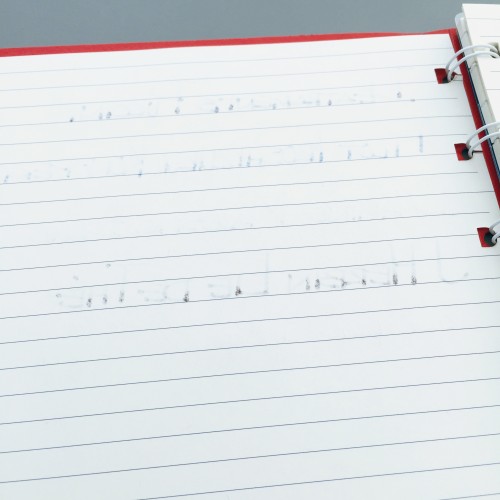 Yikes…there's quite a bit of show through (ghosting) with the fountain pens that would most likely be a deal-breaker for those who write on both sides of the paper. (The fountain pens I used were medium and broad nibs.) There were no issues with the gel pens or pencils, and there was no bleeding through to the next page with any of the pens.
I later tested the paper with a fine nib (Lamy Safari) and while there was still some show through, I think most people could tolerate it. Probably. Maybe. I don't know.
Here's my bottom line:  I love this notebook. It has so many features that I want in all of my notebooks (the flexible cover, the pretty band, the tabs) that I'm going to try like crazy to get past the issue with the paper. I generally only write on one side of the paper, so I'm feeling hopeful!
You tell me – could you love this notebook? Is the paper issue a deal breaker? Do you know how this paper performance compares with other Filofax items?