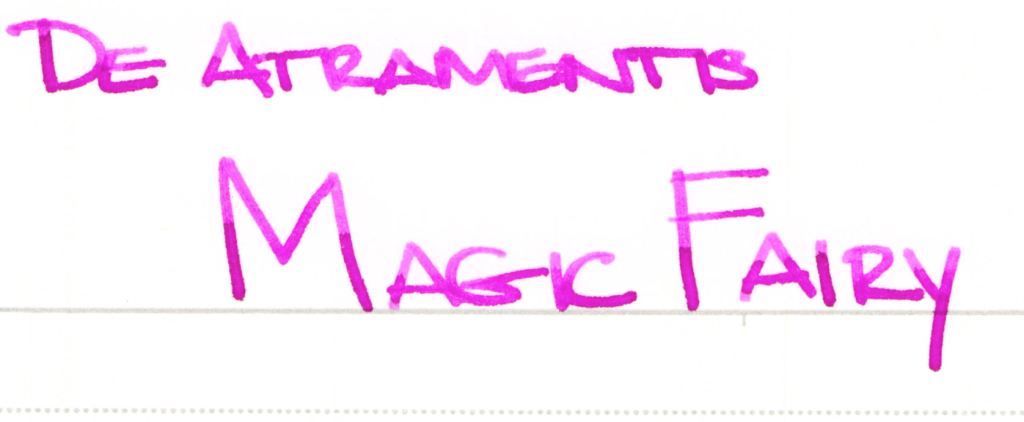 With its super-bright purple/pink hue, Magic Fairy from De Atramentis is a bold choice for fountain pen users. I'm not sure there are many practical uses for the ink, but I'm not sure that matters either. The heart wants what the heart wants, after all.

The ink performed well for me at first with no skipping, no bleeding, and no showing through. Initially, I didn't think there was much potential for shading, but the strokes above and a closer look at some of the other writing makes it seem that with the right nib, one could expect some degree of shading.
I was prepared to like Magic Fairy and then this started happening as I wrote more with the ink: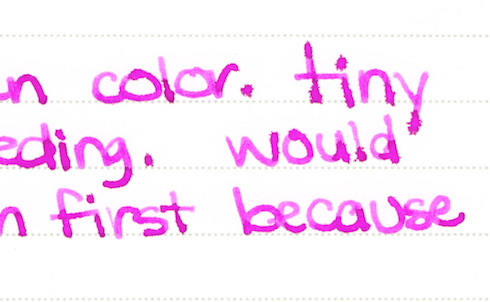 See the spreading? It was really hit or miss. The word "tiny" above is just terrible, but the word "because" looks just fine. Look at "first," though – the thin downstroke of the r combined with the other issues makes me think that what I'm dealing with here is inconsistent ink flow.
I've written with Magic Fairy a couple of times since completing the review and it definitely has a consistency issue for me.  J Herbin's Rose Cyclamen is a close color match and I've not had a bit of trouble with it. For this reason, I'll not be buying a bottle of Magic Fairy anytime soon.
I bought my sample of this ink from Goulet Pens. It is either out of stock or no longer being offered by them.  It is available for sale on the De Atramentis site, however.
Have you tried this one? Did you find it to be inconsistent? Are there inks that have no practical application that you just can't stay away from?