Diamine Terracotta
Terracotta was released late last year as one of eight inks Diamine created to celebrate the 150th anniversary of the brand.
Over the past couple of years, Diamine released a couple of limited edition sets of inks, but they had to be purchased as a complete set. It's nice to see that each of the eight inks in this Anniversary Collection may be purchased separately.
Here's a picture of the arranged bottles (and swabs – always swabs!) I posted on Instagram awhile back.  I love that they remind me of Trivial Pursuit wedges – collect them all!
I Love This Ink
The color is a unique and pleasing brownish-reddish-orange that doesn't remind me too much of terra-cotta pots and their traditional chalky band-aid color.
Terracotta is well-saturated and it shades beautifully – just enough to give it some character. Flow is good from the pen and I'd say it's on the wet side of average, but definitely not wet. There was no significant ghosting and no bleeding. All very good things.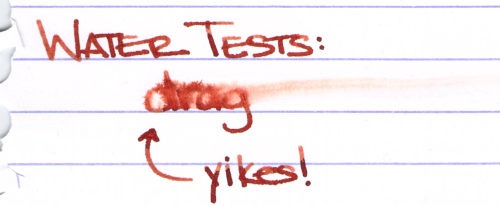 There are two "features" of this ink that may be a deal breaker for some people . . .
there's no resistance to water
dry time is longer than average (or at least it was in my bold-nibbed pen). Even at 45 seconds, there was a little smear.
I can live with both of the downsides of this ink quite easily and am finding myself using it every day for various notes.
Here's the entire handwritten review of Diamine Terracotta.
If you've tried Terracotta, I'd love to know your thoughts. Or maybe you've tried another one of the Anniversary inks?